TOP
Solution
A corporation that makes software that clients need
SCC
Customer Service Management Solution
Intellectualized phone call consultation services
that optimize client work processes. We provide environment that is flexible in terms of system expansion
and connection with process-based module construction.
It facilitates reception and management of phone consultations
in client companies and enables softphone management
(dialing/answering/forwarding, etc.),
customer information management and consultation history management.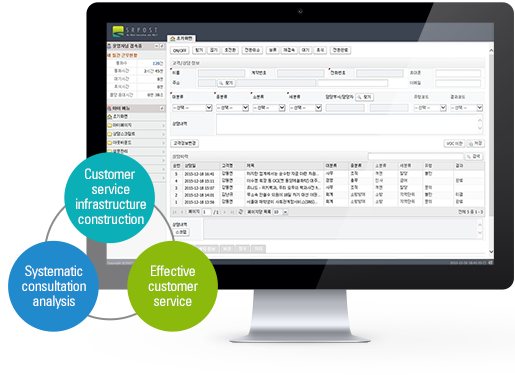 Why is customer contact management necessary?
Different consultant for
every visit/call · Different consultants
assigned for every single visit
· There may be inconvenience
of re-explaining the details if the
consultation is ongoing
(no continuity)

Change of occupation/
eresignation of consultants · Change of occupation or
resignation of consultants due
to pregnancy, child care,
health issues, etc.
· In the case where resignation is
inevitable due to the relocation of
the company

Absent/unmanaged response
manual that consultants
can refer to · Existence of infrastructure (IPX,
CTI, Recording, etc.), Absence of
consultant reference system
· Consultants take responsibility for
complaints on the quality of
consultation of customers.

No outcome/management
environment regarding
consultation
(in the manager point of view) · Difficult to check improvement
points due to lack of digitization of
performance (number of visitors
and phone reception) data
management, trend analysis,
performance analysis and analysis
on customer reception effect
Smart Customer Center Flow Chart
Smart Customer Center, a call center consultation solution, improves the quality of customer service and minimizes customer grievances.

System concept map
System building plan may vary according to the client's environment.